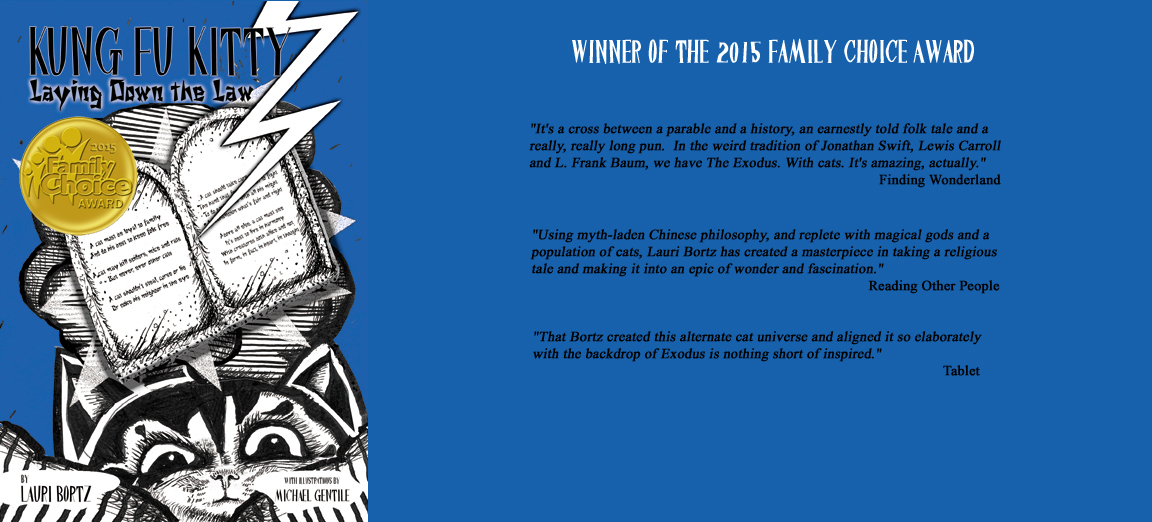 Abaton Book Company is pleased to announce the release of Kung Fu Kitty: Laying Down the Law, a new novella by award-winning author Lauri Bortz with illustrations by noted graphic artist Michael Gentile. In this sequel to her previous book, the critically acclaimed Kung Fu Kitty, Ms. Bortz completes a poignant yet playful retelling of the Biblical story of Exodus, set in ancient China and featuring animal characters. Kung Fu Kitty: Laying Down the Law begins in Henan Province, the birthplace of Kung Fu and the cradle of Chinese civilization, and continues with madcap adventures in outer space. Like its predecessor, this book is family friendly, suitable for readers of all ages. It is charmingly illustrated in the magic realist style with drawings by Michael Gentile, former art director of New York Press and other publications.
This release was celebrated with an appearance by Kung Fu Kitty, protagonist of the saga, in the 16th Annual Chinatown Lunar New Year Parade on February 22nd. She marched the parade route, engaging in traditional Chinese dragon dances and showing off her unique take on Kung Fu.


Kung Fu Kitty: Laying Down the Law
is perfect bound, 80 pages long with 28 illustrations. It retails for $10 at Abaton Book Company and Amazon.
The official release date, April 3rd, marked the beginning of Passover, a holiday commemorating the trials, tribulations and triumphs of Exodus. Stephanie Butnick's review, "I Can Haz Exodus?," appeared in Tablet, an online Jewish magazine, as part of the publication's holiday coverage. Half a dozen other fabulous notices have since been posted. See the May issue of Children's Bookwatch; Finding Wonderland, a site concerned with young adult books; Jayasree's Own, a literary blog written by a teacher in Calcutta; the July issue of California Bookwatch; the Canadian review site Reading Other People and Books are My Life, a blogspot from Macedonia.
Both Kung Fu Kitty: Laying Down the Law and Kung Fu Kitty are on the syllabus for a course at Virginia Wesleyan College taught by Eric Michael Mazur PhD, professor of Judaic Studies, Religious Studies and American Studies.
For more information regarding Kung Fu Kitty: Laying Down the Law, or a complimentary review copy, contact Abaton Book Company.