The Wire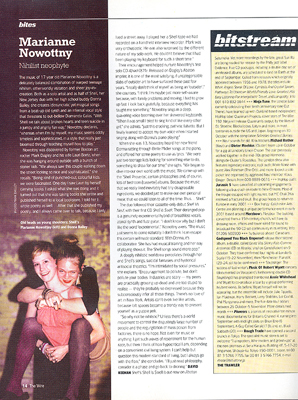 The convulsive beauty of the music of 17 year old Marianne Nowottny is a delicately balanced combination of warped teenage nihilism, otherworldly visitation and sheer joy-in-creation. Both as a solo artist and as a member of the Shell duo with her high-school buddy Donna Bailey, New Jersey's neurotic teen queen has styled her own magical world-view with nothing but a beat-up old synth and an infernal vocal style that could out-bellow Diamanda Galas. "With Shell we talk about broken hearts and teen suicide in a jumpy and angrily fun way," Nowottny declares. "Whereas when I'm by myself my music seems oddly timeless and sophisticated in a style that really just bloomed through teaching myself how to play." Nowottny was discovered by Mark Dagley, formerly of Boston art-rockers The Girls and his wife Lauri Bortz hanging with a bunch of dumb stoner kids outside the local used CD store. "We always saw this couple walking down the street looking so nice and sophisticated," she explains. "Being kind of punched-out, colourful kids we were fascinated every time we saw them. One day I saw Lauri by herself carrying books and I ran up to her and asked what she was doing. It turned out that she was taking books she wrote and published herself to a local bookstore. I told her I wrote poetry as well. She was interested in my friends and me for a fashion shoot for VERY, her friend's magazine. After that project she published my poetry and I always came over to talk because I only lived a street away. I played her a Shell tape that Donna and I had recorded on a hand held interview recorder. They took a great deal of interest in it and Mark was very enthusiastic about it and was surprised by the different nature of my solo work. He couldn't believe the short amount of time I had been playing my keyboard. I became prolific with all the encouragement and thus recorded my first solo project, the Afraid Of Me CD." Dagley was right on the money; Afraid Of Me, released on the Abaton imprint, stands as one of the most satisfyingly uncategorisable slabs of outsider art to have surfaced in the past few years. The "sophistication" that Nowottny talks about in her solo work gives her debut CD an icily austere edge which totally belies her age, as the deep quaver of her voice booms over the jarring scorn of her skewered keyboard arrangements. "When I was small I tried to sing kind of like every other girl," she admits. "It was just this cracking pathetic falsetto but I finally learned to accept my own voice when I started singing along with Donna's piano playing." Nowottny grew up in New Jersey surrounded by a constant cabaret of belly-dancing music, oompah and classical Hungarian, which her well-travelled family would entertain with at get-togethers. Ever since she was tiny she had felt her artistic calling, beginning with the construction of little colourless dioramas of schools, malls and "scenes from Night Of The Living Dead". During high school she moved back and forth between her mother and father's place before moving in with friends on her 17th birthday. "I began to work at Burger King to start putting away money for myself," she says. "I started there when I was 16. I quit because summer came and I wanted to play music. I left the following message for the manager - 'Leaving to live the rock n' roll lifestyle...Chow!' But I came back to Burger King and the manager didn't mind at all because I brought back a picture of me and Joey Ramone." She had already started making music back in 8th Grade when she found out that her new friend Donna Bailey could play the piano. After hearing her rattle out a couple of Bette Midler songs Nowottny offered her some poetry to use as lyrics. "We were just two teenage kids looking for something else to do, something to show for our time," she recalls. "We began to dive into our own world with the music. We came up with the 'Shell Proverbs', certain philosophies, and of course lots of bedroom albums. We made all the covers with ink and crayon with the usual professional contents of acknowledgements and song titles. We decided that because the music that we really liked inevitably had tiny disagreeable ingredients we'd just make our own personal music that we could listen to all of the time. Thus...Shell. I moved away from Donna due to family problems and became sad and lonely being a straightedge new kid. So I bought a keyboard and practised Shell songs and taught myself new songs to bring back to Donna." Shell's debut CD (their first official release being the Shell vs. Neu! cassette), Shell Is Swell, is all maniacally deranged pop-arrangements with layers of erupting atonal synth and fuzz guitar underlining Nowottny and Bailey's breathless vocal gush, a genuinely experimental hybrid. However, Nowottny's wary of these kinds of terms. "I don't know why but I don't like the word experimental," she admits. " It just seems to come naturally. Solo project wise, if I try to be influenced it sounds the same and if I try to create in a vacuum it turns out the same as well. I don't think I can escape this certain self-made standard. With Donna it's collaborative. She had taken musical training and her way of playing shows it. The Shell songs sound more pop. I really don't think of myself as being an 'outsider', I think I'm maybe just more self-aware because I had to grow up fast with family problems and moving. The music gave me a sense of responsibility of what goes along with making it. I look back gratefully because everything taught me something." Something that scars all of her work is a deeply nihilistic streak, a bleak worldview that bubbles to the surface in suicidal fantasy and spasms of hysterical antisocial theatrics. "I'm intimidated by social pressures to do anything," she asserts. "Encouragement to pollute, but don't pollute your bodies. Industries are scary - my peers are practically growing up dead and are too stupid to realise - they're probably so depressed because they subconsciously infer all these things. There's no love in art in New York. Artists can't even live like artists because loft spaces became a trendy way to present yourself as a yuppie jerk. Why not be nihilistic? Unless there's a world movement to control the disgustingly large number of people and the regurgitation of mass poison from factories, there is no hope. Not even for music or anything. I get such waves of resentment for the human race but I think of how hypocritical I am, depending on a convenient civil living system. I can't help but question this modern standard of living but I always go with the flow and just have restless ideas. I'll just read philosophy and consider it a phase and go back to droning." David Keenan The Wire - Issue 199, 9/2000
New YOrk Press

Marianne Nowottny ~ Illusions of the Sun
Camera Obscura Records
Permit me to cream. I'll be brief. It's Marianne Nowottny's moment. And we're lucky enough to have a record of it. Her new disc is just her voice accompanied by a simple instrument. Gone are the more elaborate productions and overworked arrangements of her earlier recordings that obscured her magnificent voice. Stripped down to the essentials, Illusions of the Sun is a chillingly powerful document of a singer-songwriter in full bloom. Clocking in at a mere 28 minutes, there's not a dead moment on the disc. The breadth she accomplishes with such simple means is astonishing. Her voice jumps in and out of keys, sawing cross-grain through chords, splintering notes into shards, before stitching them back together into pop choruses. Comfortably dipping in and out of atonality, her songs never lose a sense of progression, each retaining a beginning, middle and end. Imagine the songwriting chops of a Stephen Sondheim mixed with the swagger of Arnold Schoenberg and you'll begin to get the idea. "Rainy Days and Vinyl," the strongest cut on Illusions, showcases Nowottny's piano, hesitating and stumbling around her voice, which is by turns breathy, warbly, vulnerable and strong. Nowottny is not afraid of modernism. Dodecaphonic nuggets are seamlessly welded with pop tunes in ways that are shockingly unfamiliar (the only other pop artist I've heard incorporate high modernism into his work was Frank Zappa: particularly the shards of 12-tones on Absolutely Free as well as the numerous nods to Varese). "Grey City," Nowottny's oblique 9/11 song, also owes a lot to Schoenberg, in this case his sprechstimme-laden Pierrot Lunaire, which is, in hindsight, a perfect soundtrack for that day's events. Nowottny grew up watching Bollywood films on the local public-access channels in suburban New Jersey. "Sweet and Low" is her attempt at Indian raga. It's an odd thing to hear: I don't imagine that these days—unlike in the 1960s—there're too many young singers interested in ragas. I've got some great 60s recordings of La Monte Young singing wobbly ragas having studied after singer Pandit Pran Nath. It's obvious from the recordings that Young really can't sing properly but instead does something very much his own with it. Same here. Accompanied by an harmonium, it's the most incorrect attempt at world music I've ever heard. Instead, she takes a rather tired and cliched genre and makes it her own. Nowottny's gravelly mezzo slides up and down scales, eventually going far off the charts into new microtonal territorty. File this one with Jeff Buckley's seminal Live at Sin-é, Bob Dylan's acoustic appearances in 1966, Annette Peacock's hauntingly twisted masterpiece I'm the One and Neil Young's junked-out heart-wrenching acoustic work on Time Fades Away. I used to think that Nowottny was headed into Marianne Faithful territory; now it's clear that she's closer to the avant model of Patty Waters. Several years ago, upon the release of her first CD, I wrote the following in this paper: "In the best-case scenario, Nowottny will hook up with a sympathetic producer, one who will realize all her remarkable ideas into some extraordinary music, the likes of which we've never heard before. In the worst, she'll go blazing into mainstream rock history the way of Smashing Pumpkins and Led Zeppelin." I was wrong. Neither has happened. Instead, like any other artist, she's following her own path, slowly honing her vision to perfection. And this disc is about as close to perfection as we're going to see. Kenneth Goldsmith New York Press
New York Times

POP MUSIC; A Teen-Age Idol-in-the-Making With a Grown-Up Following
WE'RE living through the triumph of teeny-bopper rock. So goes the lament of pop music critics, anyway, as the synthetic beat of corporate constructs like Britney Spears and the Backstreet Boys flies out of the stores and into the hands of their pre-teen fans. But lately, some critics have been discovering a teen-age idol of their very own. Marianne Nowottny, a high school junior from Sparta, gave her first public performance as recently as Jan. 15, but her music has already been hailed by Mike Wolf in Time Out New York as ''stunning and really original.'' And her CD, ''Afraid of Me,'' was called ''as fabulous and strange a debut as I've heard in some time'' by Kenneth Goldsmith, the disc jockey from WFMU-FM in Jersey City, in his cover article on Ms. Nowottny in the weekly New York Press. What is most surprising about her music is how little it shares in any recent pop-music trends. It seems to come out of nowhere, which is undoubtedly why critics find it so fascinating. (Ms. Nowottny cites the experience of listening to her mother play classical piano at home as a major influence.) Accompanying herself on an electric keyboard, she builds each song from a mosaic of agitated or insinuating little motifs, oddly juxtaposed, over which floats an extraordinary dark voice that twists every syllable around like a sculptor molding clay. Without the usual rock-and-roll armory of drums, guitars and so on, the music has a naked quality, a feeling that is at once intimate and abstract. Mr. Goldsmith, also a well-known visual artist, may be a bit excitable on the subject of Ms. Nowottny; after all, his article described her as ''a stunning 6-foot bleached-blond teen-ager who dresses in Victorian-era clothes.'' In fact, she is about half a foot shorter than that. But his description, which is accurate as far as her taste in clothing goes, does capture the fact that in a quiet way, Ms. Nowottny's presence is larger than life. Offstage, at least, she seems preternaturally self-possessed and, with her ramrod-straight posture, antiquated dress and reserved yet precise manner, more like the product of a Swiss finishing school than someone who has spent all her 16 years in small towns like Millville, Newton and Sparta. That striking presence drew the attention of Lori Bortz, a playwright who moved from New York City to Newton with her husband, the painter Mark Dagley, a few years ago. Ms. Bortz had recently started a small press, Abaton Book Company, to publish her own work as well as pamphlets by artists. When she struck up a conversation, the 14-year-old Ms. Nowottny's response was, ''I'm a writer, too.'' Ms. Bortz was sufficiently taken with her poetry to publish some of it. But it was her tapes of the music she had been making with Donna Bailey, a friend from Millville, that really electrified her and Mr. Dagley, who had played guitar in a punk band in the 1970's but drifted away from music. ''Marianne's music was the first thing I'd heard in 20 years that made me want to get back into it,'' he said. He ended up turning part of his painting studio into a recording studio, where ''Afraid of Me'' was recorded. Ms. Nowottny seems oddly invulnerable to the sudden flurry of attention. Asked about the experience of seeing her face on a magazine cover, she shrugged. ''Sure, it's overwhelming to see your face blow down the street,'' she said. And perhaps because she is self-taught as a musician, what comment she makes on her music seems more metaphorical than technical. At a recent rehearsal with Mr. Dagley, she tried out a new song she was still working on. ''What I'm trying to get here is a feeling of just floating in a white room,'' she said. ''Or not even a room, but pure white, with nothing below you. Like an out-of-body experience.'' Mr. Dagley offered, ''Like a singer in the 50's, when they had the idea of the strings creating an atmosphere that the voice could just float on.'' Ms. Nowottny's taste in music may not be that of today's typical teen-ager, but neither is it that of her admirers. Mr. Goldsmith wrote that he was amazed to discover she had never heard some of the best-known experimentalists in either classical or rock music, from Charles Ives to Stereolab. Instead, her favorite albums turn out to be ones by Gothic, industrial and synth-pop bands of the 1980's and early 90's. ''When was this made?'' Mr. Dagley asked after she played a track by one obscure English group. When she said 1985, he seemed befuddled: ''You were just 3 years old then.'' Mr. Dagley and others have been eager to fill the gaps in his young protegee's musical background, but for the moment she seems too involved in her own teeming psyche to pay much attention. Of all her new discoveries, only the space-jazz pioneer Sun Ra seems to have made a deep impression. A recent performance at Tonic, a Manhattan nightclub, showed her to be a performer of equal parts brilliance and awkwardness. Between songs, she sounded like your typical nervously self-conscious teen-ager, throwing out comments that tended to trail off into a diffident ''Well, anyhoo . . .'' before beginning to peck at her keyboard almost as if she were still at home trying to fend off adolescent boredom. But as the rising and falling rhythms took hold, she seemed possessed by a spirit of mysterious certainty. (Her next dates are at the Knitting Factory in Manhattan on Aug. 25 and a benefit for WFMU this fall.) ''Marianne's got the potential to be totally major,'' Mr. Goldsmith said. ''Already some major labels are looking at her. The worst-case scenario is that somebody turns her into the next big pop star by taking everything eccentric out of her music. In the best case, someone will help her develop her own vision.'' For now, at least, the one talent she hasn't shown is pliancy. With any luck, she won't have what it takes to be the next big star. BARRY SCHWABSKY The New York Times August 15, 1999.
Philadelphia Weekly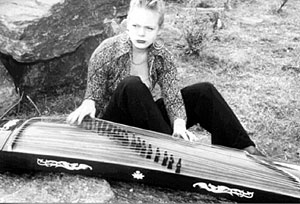 When Marianne Nowottny released her debut album, Afraid of Me, three years ago, she was 17 years old. "They were just hyping the word 'teen' so much," she says of the music writers who lauded her as an offbeat ingenue. "Now I'm 20, so you can't say that anymore." Afraid of Me and its recent follow-up, the double-disc Manmade Girl: Songs and Instrumentals, are hung with a morbid pallor that seems unlike the young woman chatting so excitedly about her varied interests over the phone. If the tortured moodiness of Nowottny's recordings is not altogether apparent in her personality, her boundless flamboyance and surreal imagination do make a strong mark on her music. In a throaty voice that well disguises her age, she often sings of the otherworldly poetry lurking behind modern living. "In a world of X-ray people and X-ray walls/ In a world of paper money and paper dolls," goes a chorus of Manmade Girl 's title track, "I guess I'm a man-made girl living in a man-made world." Born of German-Czech heritage, Nowottny moved around a lot as a child but "mostly grew up in South Jersey by the sea." Her first substantial music project was SHELL!, a collaboration with Donna Bailey, her best friend at Millville High School. After moving from Millville to Newton, N.J., Nowottny started recording on her own and soon befriended an older couple, playwright Lauri Bortz and artist/musician Mark Dagley, who would come to nurture and release her work through their own Abaton Book Company. Although Nowottny is now registering for classes at William Paterson University, where she plans to do a double major in art and education, she hasn't given up on the musical ambitions of her high school days. "I'd love to have a career in music," she says. "But right now I'm paying rent, and a couple of years ago I wasn't. So I have that thing in the back of my mind that says, 'You've got to pay the bills.'" Over the summer she worked for her mother as an assistant chef, and she's currently helping out with her father's painting company. She does portraits professionally, makes her own clothes and is responsible for the hodgepodge sculpture gracing the cover of Manmade Girl. "I will continue to release music and perform and search the regions inside my brain to see what I can create," says Nowottny. "I need that self-expression." Much of that expression finds release through a discontinued model of a Radio Shack keyboard, the Concertmate 990. In a weird way, the endearing amateurism and couched versatility of the instrument matches Nowottny's own style of songwriting. "Anything I can experiment with, I will," she says. On Nowottny's albums, muddled loops and effects swim with operatic piano and Eastern-tinged rhythms, all while her rumbling vocals spill out lyrics that can cut a quick transition from absurd to hurt. "There's a lot that's confessional, if not all," she says of the subject matter. Nowottny plans to experiment even more on her next proper album, which will tellingly be titled either What Am I Doing? or What Is She Doing?. "[The new album is] very stark and almost tribal-sounding," she says. "It's inspired by Fleetwood Mac and very modern, crude rap songs [by artists] like Missy Elliott." In the meantime, the respected Australian label Camera Obscura will release Illusions of the Sun, a set of live tracks Nowottny performed for a radio appearance. And while she's not being actively courted by major labels just yet, Nowottny remains aware of people watching her career. "If there's a whole bunch of people just responding and coming to the shows, that'll make me very happy," she says. "I want to build an empire of sound and kind of lead the ear from one theme to another and let it grow." In the process, people have compared her to everyone from Nico to Leonard Cohen to Fiona Apple to Sun Ra. Of her actual influences, Nowottny cites Tori Amos "from the beginning" and more recently, the Legendary Pink Dots. When asked how her personality has changed between the release of her first and second albums, Nowottny replies, "Instead of being so introverted, I kind of unfolded a little bit to receive. Now things are building on top and I'm more of a person, instead of being a teenager who's totally self-absorbed with herself as a growing person." Given the sprawling experience of Manmade Girl, though, Nowottny is clearly still growing up. Doug Wallen~ Philadelphia Weekly December 4, 2002
Careless Talk Cost Lives
Marianne Nowottny by Jimmy Possession
8.30am. Quiet.
Then: thump, Thump, THUMP, THUMP! Rattle. Clatter. Crumph. THUMP! THUMP, Thump, thump. Fade. Quiet. The lead-footed postman has just delivered the morning's quota of drastic plastic. I drag myself out of bed and crawl downstairs, a dry-mouthed half-human conjunction of sleep and jaded anticipation. Familiarity breeds contempt, they say, and as I shuffle the standard white jiffy bags, plain old 7" mailers and the cardboard CD envelopes it never seemed more true. The same old same old same old shit. Every day I'm searching for something hand-made, something that stands out, something constructed from Walkers crisps boxes and gaffa, a tape wrapped in a defaced NME cover or – aha! – a graffitoed torpedo-shaped package from New Jersey. This one won't be a run-of-the-mill corporate indie essay in bland conformity, surely. It isn't. The torpedo shape, it turns out, is a result of the Barbie-sized effigy of Marianne Nowottny contained inside. She is in a cellophane tube bag with a colourful label bearing the words Manmade Girl – vinyl head and rooted hair, moveable arms and legs. A pair of pink high-heeled pumps nestle at the bottom of the bag. Dislodged in transit they lend the doll a wistful, winsome air. Or they would if she wasn't covered in black marker pen scribblings. A signature up the right leg is complemented by Robot-related propaganda on the left and both arms. A necklace, with "N" pendant attached, has been tattooed on and black fingernail polish applied. Strangely, as a finishing touch, a black stripe has been drawn on the sole of each foot. This is both the best and oddest thing to drop onto our doormat since the pink vinyl 12" wearing a pair of girls panties (but that's another story.) Simultaneously beautiful and disturbing. I haven't taken the doll out of the bag. I can't quite get over the idea that if I did she'd become animate and, after a period of time where I feel more alive than I ever have before, force me to become her slave and perform all manner of illegal and depraved acts. As it is, she's suspended from the picture rail above the stereo and is staring at me. Simultaneously beautiful and disturbing. There was a record in the package with the doll. A double CD called Manmade Girl, Songs and Instrumentals, by Marianne Nowottny. It is a tense affair, an uneasy marriage of lush and crazily primitive sounds, of electronic abasement and natural glory, of perceptive disdain for so much of the here and now and appreciation for what might be there and then. Nowottny creates the confusion, a turbulent cacophonous whirl of sound, and then delivers the message to us, like an operatic Dorothy broadcasting from the twister that's carrying her away to Oz or Alice beaming back reports from Wonderland, distorted by the looking glass, barely recognisable as skewed and skewered reflections of our world. "Advertisements stamp the sky Tailored people walk out from the butcher shop Lean cuts, ready to hang out At this café, hey hey" Manmade Girl Manmade Girl doesn't appear until last-but-one on disc two, a full 23 tracks into the record. It is a microcosm of the whole, a summary of what went before, a reminder of the emotional heights and depths that have been traversed. With just a couple of tape recorders, a Tandy keyboard and a harmonium, Nowottny comes on like a weird, wired lovechild of PJ Harvey and Tom Waits. Her voice is mixed, and pitched, so low as to be almost inaudible amongst the cacophonic burble of chopped-up piano and swirling, whirling electronic noise. It sounds like nothing else on earth. It is simultaneously beautiful and disturbing. "Manmade Girl was responding to the industry-created pop idols. It's also about technological paranoia and how we're ingesting our chemical waste through the air and water. We also completely separate ourselves from animals. They don't have the ability to reason, so they can't protest as we control their population and speeding metal death machines run along the asphalt through the forests where they once grazed and nested. Everything we use is a product from a string of inventions before it. All manmade." Marianne was born in 1982 and lives in New Jersey. Her records are released by a small NJ publishing house, the Abaton Book Company, run by playwright Lauri Bortz and her husband, and one-time member of The Girls, Mark Dagley. Bortz was stopped on the street one day in 1998 by a 16-year-old Nowottny because she liked her hat. Soon after, Abaton published a book of Nowottny's poetry and, when she'd got up the courage to play it to them, released a cassette of songs she'd recorded on a dictaphone with schoolfriend Donna Bailey inspired by a sequence of acid trips and terminal boredom. Her debut solo album, Afraid of Me, followed and then Shell's first CD release, Shell Is Swell. Bailey, a classically-trained pianist self-deconstructs her knowledge of piano for Shell, leaving Nowottny to concentrate on the words. The result is considerably more pop, and considerably more arch, than Nowottny's solo material. "Donna's playing style is very choppy and rhythmic and there are a lot more hooks in the Shell songs than my own. She'd play old country songs like Mountain Dew and A Boy Named Sue and classical songs like The Hall of the Mountain King [and] we'd apply the melodies to our poems because we'd both keep notebooks of our writings, drawings, ideas, and diary entries… With Shell we talk about broken hearts and teen suicide in a jumpy and angrily fun way. "My own songs usually come to me almost in a fully formed melody when I just let my fingers wander up and down the keys in complementing patterns. The lyrics used to always be waiting in an abundance of poetry but I haven't kept up on writing consistently like I used to. Now, there will be things people say or dreams that will get me thinking. I love being around writers and artists, like Lauri Bortz and Mark Dagley. Because of the way they word things, they stimulate my imagination. No pressure and supplied inspiration. You can't ask more from a label." Especially when you're not yet 20 years of age, a time when most kids would sell their grandmothers into slavery just to get the chance of an audition for the first round of trials for a preconceived, over-packaged girl band run by a fat, power-crazed, manipulative Nazi. "I'm always asked by people So do you write the songs? Those people should take a look at the information on the back of the CD." Ooh, get her! People who do believe she writes the songs have compared her to all sorts of sonic innovators, experimentalists, singers and songwriters (Om Kolsoum, John Pfeiffer, Brian Eno, Charles Ives, Stereolab, Pere Ubu, Electric Eels, Jeff Buckley, Liz Phair, Leonard Cohen, Melene Dietrich, La Monte Young and Danielson amongst others) but she's seemingly got no interest in avant-rock traditions. "I think I'm more avant-pop than avant-rock. I don't usually rock. Only on certain occasions. But no, I don't identify with any groups out there. I'd hope to be remembered as some outstanding part of the evolution of music, but how traditonless can you get with music?" But then she springs an out of leftfield comparison of her own: "I was inspired by Tori Amos. She made an entire pop album with a piano and a harpsichord!" Tori Amos? Jesus wept! Manmade Girl is worth a hundred Little Earthquakes. Marianne is Kate Bush against Tori's Barbara Dickson. Sure, Amos shares herself with the world, but according to the singer-songwriter template. Amos colours inside the lines, Nowottny is cutting up the page, mixing it with glitter and dreams and throwing it into the wind. Where does the creativity come from? "I want to capture my ideas. It's so frustrating to forget what you were about to say or be left ecstatic from a dream to only remember the emotion it left and nothing else. I don't want to have to settle for music, clothing and art I don't entirely agree with. The best way to relate to such things for one's sake is to create it for yourself." Such self-confidence. Partly that's teenage chutzpah, but mostly it's unnatural maturity. Some people have said there's a gothic side to Nowottny's music, but that's too easy a tag. She'd admit to nihilism, but there's nothing morbid about her, it's all spiritual. "I am a spiritual person and feel overwhelmed by it sometimes and it's a beautiful feeling. A goal of mine was to make a song that demanded intense concentration and would make the listener forget that they were awake. I made an extremely spiritual song the other day that was praising the sense of belonging to some power of the beyond. I believe in fate and I always look for signs and I'm superstitious but I usually keep it to myself. I don't go by the nostalgic Friday the 13th type superstitions. There's no listed set of omens, they are all different. I'm not a nutcase. I just trust in a path that was laid out for me and I'm just following the signs." And the biggest signs of recent times were the tragic events at the World Trade Centre in New York. "I recently wrote a song for the Village Voice benefit compilation for the victims of the tragedy. I wrote a happy song about New York because I don't want people to ponder the ill feelings of worry. I'm sure if there's another attack and there's panic in the US, it will only affect me by pushing me to create even more for distraction and expression. But if the terrorists took over our culture instead of killing us, I guess I wouldn't be allowed to own a musical instrument or play out anywhere. That would make a difference. And I don't think my corpse would make any music either, unless I'm rotting on the ground and there's a funny whistle as the wind blows through my rotting ribcage." Jimmy Possession~ Careless Talk Costs Lives Issue 12, January, 2002
All Music Guide
Marianne Nowottny by Bryan Carroll
At 18 years old, Marianne Nowottny was ambitious and crazy enough to release Manmade Girl, a two-sided coin of a double album (one disc vocal, one instrumental). Nowottny's execution and delivery have improved, and the songs are fleshed out by the addition of percussion and occasional electronic beats that give the record a solid foundation to stand on. She still sounds like a confidently out of tune PJ Harvey; in fact, the floozy carnival rotisserie that Manmade Girl turns on sounds like a PCP-induced coital disaster played out to the tunes of Harvey's To Bring You My Love. But unlike Polly Jean's lusty neo-Delta hip-shake, there is no rock & roll here, no bluesy swagger or soulful inflection, just Nowottny's love-it-or-leave-it voice and her trusty, howling Concertmate keyboard. But even though Nowottny's brand of avant-garde vocal pop can be distempered and outrageous, Manmade Girl is much easier to approach than the obscurantic bizarro world of her debut, Afraid of Me. Occasionally somnambulant and beautiful, often foreign and incalculable, Manmade Girl's progression is evident from the beginning in "Fountain of Youth," when the initially out-of-sync rhythms of artificial drums and dully ringing piano begrudgingly gather together. That the song's components adhere at all is a marked change from her debut, which accelerated and decelerated spastically and arbitrarily. In fact, Manmade Girl is often sweet and lovely, with it's handful of psychedelic prog songs that paint Nowottny as both starry-eyed and wise beyond her years. "Cover Your Mirror" is a prime example of this. While her unmistakable, craggy croon floats over the familiarly spaced-out but beautiful tones of her Concertmate, Nowottny admits to a nihilistic abandonment of her peers' self-hatred and their subsequent acquiescence to the hollow drive of instant-gratification in an empty, strip-mall culture. The song culminates in her sighing resignation, "there was nothing to be said/I've grown up dead," and fades away to the strains of a distant piano. Though a primer such as the one on the front of the album, which reads "Disc 2 is primarily instrumental soundscapes and stylistic explorations," sends up all the red flags in China, the nine songs are surprisingly engaging. "Poppies," the first song on the largely instrumental disc, finds Nowottny's deliberately plunked keyboard arrangement being sabotaged by a wailing sonic banshee that eventually overruns the composition and drowns it into silence. The rest of the songs trade roles, approximating the character a player piano at the Korova Milk Bar, a synthesizer in a psychedelic saloon, or a guitar exploding in an opium den cum harem might have exhibited. Though they occasionally sound like outtakes from the score to the Legend of Zelda, the instrumentals are just as captivating as the vocal tracks if they are approached openly. That's the crux of most challenging music - it's only successful if the listener holds up their end of the deal and brings a willing imagination to the experience. This artist is for the adventurous listener who was fascinated by PJ Harvey's excursion into the Dance Hall at Louse Point, exhausted by Tori Amos' exercises in heavy breathing, or obsessed with the fallout of that pinnacle of grotesque high-concept marketing ploys: the Chipmunk Punk! album. By all accounts, Manmade Girl is a periscopic, effective, and engrossing critique of a dystopian pop culture wasteland, and the numb, irreparably damaged addicts that passively inhabit it. - Bryan Carroll (AMG)
Blastitude

MARIANNE NOWOTTNY: BETTER—AND WEIRDER—THAN CAT POWER
Marianne Nowottny can eat. Unlike those other anorexic twigs posing as chanteuses, she ain't afraid to snap on the old feedbag once and a while. They don't call her "DJ Giblets and Gravy" for nothing! I once witnessed her devour a sampling of Japanese delicacies—sushi and the like—and then send out for the whoopie pies immediately thereafter. For those unfamiliar with these confectionaries (which are completely different from "moon pies," believe me), they consist of two moist cakes with a dollop o' tasty cream in the center (of varying consistency and volume depending on the baker). Whoopie pies are apparently a New England regional specialty and we have some good ones up here in Portland, Maine where I live—Sarah's make the best, but they're only available at Joe's Smoke Shop and by the time Ms. Nowottny needed dessert Joe's was closed so she had to settle for another lousy brand (cake's too dry, with a way-too-shrimpy portion of synthetic-tasting cream). Speakin' of Joe's, the brilliant singer-keyboardist actually accompanied yours truly to that very place the same afternoon to buy liquid supplies—I believe at the time, Ms. Nowottny took note of Sarah's whoopie pies but made no instant decisions because we had some DRINKING to do and Ms. Nowottny also does that well. She even got to sample our excellent SHIPYARD beer which we pride ourselves so much on up here in the great state of Maine along with lobsters and potatoes. But of course the whole point is, Marianne Nowottny is also a big fan of lobster and potato—and beer. Doesn't smoke the butts (they're bad for the pipes), but she's run through her share of anything and everything in the course of her 19 very wise years… Which is kind of the whole point—she can eat, she can drink, and she can even cook! Being of Germanic distinction, Marianne's mum is also a great chef who heartily recommends steaming buckets of broth filled with aromatic sausages and the like—infact Marianne's even helping her out at the family restaurant this summer during her break from college. So some lucky guy is getting his weinerschnitzel handcooked by the greatest fucking American female artist since Billie Holiday. And the comparisons to Lady Day are not unfounded—the whole point of running down a virtual checklist of everything Ms. Nowottny consumed in the course of one seven-hour period is to acknowledge her immense appetite, not just for beer or whoopie pies, but also for life itself. What else could make her sound like, even at the tender age of nineteen, she's lived a thousand lifetimes? They say Lady Day herself was a fried chicken fancier and my favorite Billie story is the one about how, one day, she hand-swiped a bunch of "college boys." Marianne comes from the same spirit and you can hear it in her music, which is what makes it so spine-tinglingly intense as opposed to just more mawkish folk music in "feminist" garb. In all seriousness, Marianne Nowottny's the most important female artist in any category—that is, she's doing more to expand the whole concept of modern womanhood—than anyone since Lisa "Suckdog" Carver. Infact it's pretty evident they're cut from the same cloth. To wit: upon once proffering Ms. Suckdog with a whole shopping bag full of my famous handcooked popcorn as a party favor for one of her soirees (clothing optional) she instinctively dove her hand in and grabbed a big handful without the normal trepidation displayed by uptight alt-rock ladies worried about their figures. At that moment, it kind of dawned on me—this was emblematic of her whole APPROACH to life, which was a zestful popcorn-dive of almost Nietzschean proportions! The first time I heard the Shell is Swell album—which was Marianne's fab collaboration with Donna Bailey in the form of the short-lived and ill-fated Shell duo—I was immediately reminded of Lisa Suckdog. Not even the recorded stuff like Drugs are Nice or the compilation Onward Suckdog Soldiers but the background "incidental" music in the Lost Kittens video, the strangely disorienting stuff that actually sounds like an offshoot of Yoko Ono. You know, there's weird and then there's weird and I've always gone for the latter, and somethin' about the fact that in both the case of Suckdog and Shell it was literally teenage semen-sprouts yawkin' up the abysmal meow made it all the more appetizing. Shell is Swell to me seemed like a record every teenage girl of Prozac Nation should be listening to religiously—no Prozac for the "pasty princess" however: just bring on the goddamn fried clams before she gets writer's block! Getting back to whoopie pies: Iggy Pop, the famed ex-singer of the Stooges, and human specimen, is a known whoopie pie fancier. But there was no Pop or pies evident on Shell is Swell but some downright macabre mellotron sizzle combined with a disarming Nico Marble Index vocal style—Marianne is the definition of "noir-ish." She's a little like Diamanda, but not so much into screech as purr…but it's a purr of a blur, like a cat caught in the downturn of a certified tuff gnarl. Cat power? Shell was so UNLIKE the previously-vaunted "women in rock" suspects that it was the most ear-opening piece o' wax since Love Child's immortal Witchcraft and the best expose of the modern female id since vintage Suckdog. Even tho' the alb reeked o' self-conscious girliness—an unavoidable facet of life in the nineties admittedly—there was apocalypse within its eternal ginchiness. Despite the purposely-garish pink and black sleeve, the handwrit inscriptions were more reminiscent of tombstone etchings than they were feckless love notes. You gotta fuckin' respect teenagers who ain't total ginchos in this day and age and Shell for once presented us with perfect role models. Back in the early nineties, Spin asked Simpsons creator Matt Groening what music Bart Simpson listened to and he replied: "NWA, Dead Milkmen, Butthole Surfers, anything to drive his parents crazy." In this day and age, if someone asked Craig McCracken, the creator of the Powerpuff Girls, that same question per his own illustrious band o' pre-teen public defenders (who're actually just a derivative o' Rocky the Flying Squirrel anyway) I have no doubt he'd say Shell as well as Marianne's own socket-pumping solo works. And what works they are, starting with the immortal Afraid of Me, which came out on the great Abaton imprint in 1999. Marianne Nowottny records exclusively for Abaton and the artists alone decide what you will hear on their Abaton recordings! Marianne is their flagship artist—hell, at this point, Marianne is their only artist! But that's just an example of good old staying power. Let's face it, two out of three albums released by Sub Pop or Merge totally sucks and the mistake o' most indie labels is that they spread themselves too thin. Abaton will never do that because they have a vision and that vision is a family affair with the front-line o' the illustrious Abaton royal family consisting o' the beautiful and talented Lauri Bortz (America's greatest playwright) and her hubster Mark Dagley (a creator of eye-popping visual art in his own right). In the seventies, Mark actually chopped away for the Girls, Boston-area pre-Mission of Burma weird-rock, so he's no stranger to embryonic sounds and it's his knob-twirling that helps bring Nowottny's unique vision to life. Lauri's listed as "producer" but that's kind of like Andy Warhol being listed as "producer" of the Velvet Underground's first album and in fact Lauri's very Warholian: just like Warhol wouldn't go out w/out his wig, sunglasses or black leather jacket, Lauri is seldom if ever seen outside of the Abaton compound without one of her forties dresses, a pillbox hat and her lethally-red lipstick. Nowottny's no slouch fashion-wise either—look at the cover of Afraid of Me where she looks like a combination of Lolita and Marlene Dietrich. She got the red lips from Lauri, but the whole key is her strange juxtapositioning of old/young and even tho' she was a mere SIXTEEN when she waxed this opus she once again sounds wise beyond her years. And speakin' of "key," this alb also contains the fuggin' great "Porcelain Key," a song rife with almost Biblical analogies in which the stunning chanteuse sings: "Worn down to an apple core/I can now honestly say I don't need anymore." Apples are of course edible (if not Oedipal in this case) which once again brings up the food angle! Other references to food on this album include: "lamb" is mentioned in "The Bell Ringer" (a skin-tingling opus with Diamanda overtones about a would-be Romeo-Quassimodo); she mentions "soda pop" in "Lotus" and also "glass of sherry with a cherry"; in "Deep End" she evokes "sugar cubes" (which of course could be a DRUG REFERENCE as well since smack pops up in the aforementioned "Porcelain Key" as well as "Crackerjack Necrophiliac"—how's that for a food/death metaphor?) Jesus Christ, I just realized she also mentions "crabs" in "Deep End"—wonder if she's ever been to Maryland, birthplace o' not only the crab phenomenon but also Eric Youngling who, despite her Aryan lineage, was no fan of the so-called "pasty princess" (so dubbed by some critic who apparently took note of her pale complexion—but then aren't all those "moon goddesses," from Deitrich to Nico, always pale as a ghost? Pasty's nothin' if not macabre but it's kind of touching that below it all she's just a good old American teenager who actually drives—they call her car "the Pasty mobile"—and once even worked at Burger King…which once again brings up the FOOD angle so everything connects…)? Her food references ain't as blatant as the Descendents' or Iggy's but nods to all kinds of consumable substances pop up if y' just know where to look. "Who's to Blame," for instance, starts right off with a ref to "yolks" but that may be the oxen-securing kind as opposed to eggs—then again, I might have spoken too soon since she sings in the third verse: "Hearts break like hollow eggshells." She also sings: "maybe we can drink tonight" and who wouldn't want to tip a few distilled spirits with the current World's Greatest Chanteuse? Food reference number 434: on "Harbor" she mentions "cookies" but only in the context of "I'm still your communist cookie nazi," which should finally satisfy Youngling's Aryan yearnings. Not as much food mentioned on her latest, the epic Manmade Girl, which has got to be the most brilliant double alb since, I dunno, Brylcreem Nation? One half of it's her new songs and they're all brilliant and even more smoky and obscure and dense than the ones on Afraid of Me. This was the alb where she REALLY showed herself to be the heir apparent to Diamanda as well as wayward sixties songstresses like Patty Waters n' Erika Pomeranz n' Sandy Hurvitz as well as more recent ones like Azalia Snail. But whereas Snail conjures her blissful space-hum via the six-string ala Barbara Manning—which means it's still ultimately FOLK MUSIC—Nowottny uses purely keyboards (altho' Dagley as well as Nowottny herself does occasionally embellish a track or two with guit-sounds). The end result, on this album anyway, is a musical pastiche that, at various times, manages to evoke Sun Ra, Billie Holiday, Erik Satie, Nico, Yma Sumac, Richard Clayderman, Richard Grossman, Patti Smith, Patty Waters, and Anisette from Savage Rose, among others. It's the greatest album of the new millennium without a doubt if "greatest" means the only thing offering a genuine challenge to the listener. The whole second disk is semi-classical pianistics combined with hovering space burble worthy o' Acid Mothers Temple. Manmade Girl is also Nowottny's waltz towards full-blown womanhood—if you've got a teenager niece and you want to indoctrinate her to the ways of Nowottny you start her out with the more teen-friendly Shell is Swell and the sometimes-giddy Afraid of Me before exposing her to this because, chances are, she won't understand it. It's not as immediately "accessible" as those two albs, in other words, but twice as rewarding once you've bought the full-blown farm. Which brings us to Nobody's Diary: A Tribute to Yazoo. Judging by the title the whole shebang sounds like a tribute to that blues label so I thought I was gonna get to hear Pasty doing things like "I Want a Hotdog for My Roll" etc. My first thought was: "Where's Grumpus?" But then I realized, far from being a tribute to any arcane Americana, it's actually a tribute to some English synth-pop duo from the eighties named Yazoo who had to chop the two O's off the end o' their name t' make 'em fit for American consumption coz apparently the blues label balked. Hence: Yaz. I never heard of 'em in the eighties since my tastes at that time ran more along the lines of, I dunno, the Angry Samoans…in that case, I have nothing to compare the blatantly "new wave" emissions here to, but let's just say, on this effort—made up of mostly artists I've never heard of—the snap drums are running wild. Eighties affectations have been rampant lately, whether it's the contrived robotics of the Faint or the new Republican politics. Marianne's cut, "I Before E Except After C" is the only cut here that's not self-consciously retro: through a sandblast suction cup o' sound filters—once again wrought by Bortz and Dagley w/ some help from experimental genie Elliot Sharp—the Pasty One mouths a sultry series of echoing atmospherics complete with tonal protrusions that recall Eno during his most pastoral period. Compare this cut to the moveable disco of Electrosquad's "Only You," which directly succeeds it, for a prime examp of how, even in a project as self-consciously unnatural as this, the Pasty Princess never succumbs to generic mediocrity. Not that Nobody's Diary ain't utterly wonderful throughout—in fact, it's by far the best snapdrum alb since the last New Order. I almost hate to admit it, but I've been kind of nostalgic for the eighties (yes, Reagan, MTV…those eighties) lately. Let's face it, compared to nowadays, anything's better. Joe S. Harrington Blastitude Issue #13, Fall 2002.
Ectophiles Guide

I'm one of the Ecto people who really like her...I've had her disc for like 2 weeks now and it's just incredible. She's still quite 16 in her lyrical approach, but she's got some major talent and she's going to absolutely blow everybody out of the water once she learns about control...because at the moment, she has absolutely NONE but that's what makes the music and the lyrics so interesting, she's flying all over the place, those keyboard pieces are just extremely strange and wonderful...I did a good bit of research on the 'net about her and found she and her 15-year-old friend named um Donna or Dierdre or something like that released tapes of experimental improvised pieces under the name of Shell...according to the story, they dropped acid and hit the "record" button and just played for an hour and then stopped once the tape ran out. Woo. One thing that's pretty interesting to me is how her vowels are like Sylvia Plath's...notice: this has NOTHING to do with her writing style, it's all ENTIRELY to do with the way they hold their mouths or whatever...but it's a coincidence, I'm sure, just as Marianne's voice bearing a strange uncanny resemblance to PJ Harvey's is just a coincidence...but anyhow, Marianne's "ooh"s at the end of words, like, "you" and "do" and "through" etc are VERY reminiscent of Sylvia Plath's voice when she was reading her poetry, it's that whole level of poise...and there IS a certain level of sophistication to her stuff beyond her 16-years-old-ness, those songs are so amorphous and strange that I think she has that same internal-logic to her music that Tori Amos has...anyhow. So I'm excited to hear her 3rd or 4th album...by then she'll be shattering small planets with her music, I'm sure of it. I find her music to be extraordinary. this is the most remarkable thing about her music: it comes purely from her, free of almost any kind of outside influence...it proves that originality is still possible even in this time of media oversaturation and artistic homogenization, and for that reason, Marianne gives me extreme hope as to the future of her music (she's only 18 now and composing on a far greater level of raw talent than nearly any other musician--imagine her at 40, or even 30!) and indeed of all music and art itself. John Drummond Ectophiles Guide To Good Music (12/2000)
Terrascope Online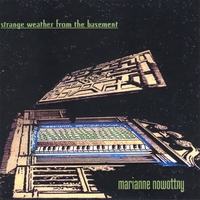 "Now this is the sort of release that CD-R micro-labels were born to do. Although Ms. Nowottny's unique vocal and song-writing skills are usually at the centre of her art, in this case we are treated to a release of solo keyboard instrumentals. A relief for those who find her voice "challenging", one supposes. Beauty and strangeness are encoded in Nowottny's DNA in equal measure, and they certainly are in evidence on the eight instrumentals for piano, Optigan and electronic keyboard presented here. From the outset, any disappointment at being denied the charms of Nowottny's voice and words are blown away by the antique Victorian elegance of the open piece (helpfully non-titled 'Untitled #1'). Seemingly played at midnight from some cobwebbed parlour by a spirit suspended between planes, this enchanted composition taps into a sepia-toned world that casts back modernity with cool gaze and infinitude of time. 'Untitled #2' and 'Untitled #3' have the detached elegance and simplicity of Satie, but are played with a off-kilter, halting hand that renders them truly alien. 'Untitled #4' is breathless and almost neurotically optimistic, notes showering down around like half-speed hail-stones before a switch-back into darkness and a psychedelic whirl of backwards tape manipulation. We've arrived in the 20th Century with shuddering suddenness as though travelling via an intermittently reliable time machine. We stay there for the broken carnival sounds of 'Untitled #5', which adds gramophone samples to the ass-backward sound world Nowottny is conjuring in stages via her Optigon. 'Divinity' (a title!) continues in carnival mode, with penny arcade tinkering and off-stage clatter from it's origins as a live recording. 'Untitled #6' is a brief stop at an asylum activity room and we're taken out via 'Untitled #7' - a very short but triumphal wedge of pure abstraction. 'Strange Weather…' is a fine departure from an artist who has released too little material of late, and one hopes that more is on its way." Tony Dale Ptolemaic Terrascope Online December, 2005
ArtistDirect.com
"Is a zheng a cheng?" "Look at this picture, they are selling it under the name of guzheng. It looks the same." The catalog of a Chinese instrument company is being compared to a photo of a Chinese zither plucked by a young lady who is considerably easier on the eye than the research assistant summoned out of forced hibernation due to a question regarding ethnic instrumentation. "Do I get to go to China?" Igor asked, tilting his head pleasantly during one of the sections of this CD that does not sound like a poltergeist family dwindling down into a mess of wet rubber bands. The Chinese music section of the record library was where Stedsachs, ever the know it all, was naturally headed, probably to fish out sides by Liang Tsai-Ping, so-called "professor of the cheng." His "cheng" may be a zither of a different color than the "zheng" wielded by Marianne Nowottny on Springtime of Desire, a set of five solo performances recorded between 2001 and 2005 at various places on the east coast of the United States. They do look and sound quite similar, enough so that Stedsachs was ready to make his comparisons between Nowottny and Zheng. Despite the fact that the budget had recently been cut regarding the correction of minor spelling misunderstandings, Igor was sent off to report back once and for all on cheng, zheng and guzheng status. "That'll keep him busy and we can be alone with this alluring music," quoth Stedsachs, preparing to discuss what he perceives as the contrasts between Tsai-Ping's "Floating Lotus" and Nowottny's opening "Dragonflies in the Rain". "As long as he doesn't kidnap Marianne Nowottny out of her balcony window...didn't Igor do that in one of his early movies?" "Never mind that," Stedsachs interrupted. "Why would this American woman make a CD on a Chinese zither?" It was time to start the CD over, since at a bit under a half an hour it goes by pretty fast. That opening track provided the explanation: because it is a beautiful instrument. Certain notes can sound like open heart surgery performed on a national monument. "This just sounds like someone demonstrating the instrument," Stedsachs nonetheless began to whine, citing the masterful rhythmic phrasing throughout Tsai-Ping's "Song of Silk Pounding". It was time to interrupt him, it seems as if the pompous critic didn't really know who Nowottny was, that she had put out her first record at the age of 16, had published poetry, drawings, solo keyboard music, live sets from gigs at the Knitting Factory and even a recitation of Taoist verse. Stedsachs needed to compare Nowottny's accomplishments with others her age, not with a former president of the Chinese Classical Music Association. A good place to start would be his own cousin's 17-year old, under indictment for armed robbery with attempt to murder. Predictably this argument turned ugly and Stedsachs stormed out, theoretically to go home to fetch sides by the somewhat reactionary Lu-sheng Ensemble to broadcast simultaneously with the new Nowottny solo CD in an after-hours freak-out party. Finally it was truly solitude with these touching pieces, four of them solos and the finale a trio entitled "Demon of Jealousy Appears in a Dream"--from its sound more like an apparition of a flute-tooting shepherd who has wandered in off the hillside. "A Finely Crafted Bow" follows a familiar gambit with this type of recording, the traditional and pure instrumental sound having been presented in the previous track. Consciousness shifts, the floor beneath one's feet no longer a given. A percussive knock has an important role to play but is no longer tied to some formal element of story-telling, as it would be in traditional Chinese music. "Springtime of Desire" seems to add the elements possible with an electronic delay. This artist's concentration and the implied intensity of motion lead her up a path where many comrades have previously fallen, echoing riffs bleeding out of their ears. In its best passages it as if her instrument was being observed through a kaleidoscope, twanging like a Telecaster and then falling into a pool of "Many Little Flowers" with a flick of the wrist. ~ Eugene Chadbourne, Artistdirect.com/AMG May, 2007
Other