Abaton Book Company
---
New Release: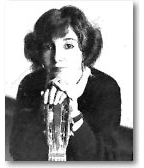 Artist: Veronika Dolina
Title: Thirteen Diamonds
Catalogue: Abaton Book Company #20

Format: 250 copy limited edition cd~r in gatefold sleeve with 8 page booklet.
Abaton Book Company is proud to present
Thirteen Diamonds
; a limited edition CD-R by one of Russia's most famous singing poets, or bards, Veronika Dolina. Though she has been recording for almost twenty-five years, Veronika Dolina is still virtually unknown outside of Russia. Born in Moscow in 1956, she began writing songs at the age of fifteen, setting her prose to the accompaniment of folk guitar. By the early '80s she had become the most important female figure of the entire bard movement and was performing to audiences numbering in the thousands. Dolina's songs (all performed in Russian or French) are both personal and political but always lyrical. Her clear soft voice still carries rough edges, a pledge of authenticity. Her subtly innovative guitar playing serves as a quiet dramatic background.
This release includes an eight-page booklet with text by Alexander Pogrebinsky on the history of singing poetry and Dolina's role as a unique poetic and cultural force in Russia.
$10.00 including postage in the US and Canada
$14.00 including postage to Europe and elsewhere.
Released under license from SoLyd records, Moscow.
---