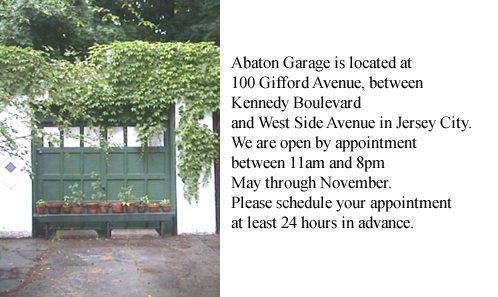 ---




We Can Remember It for You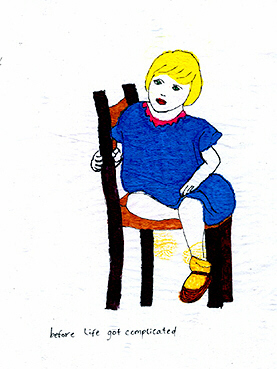 Drawings, sculpture and video by Sharon Gal
October 8th - November 1st, 2006
Abaton Garage is proud to present We Can Remember It for You, cross-disciplinary artist (painter, sculptor, filmmaker, singer/songwriter, composer) Sharon Gal's first exhibition in the United States. Gal, an Israeli residing in London, shows frequently in her hometown, where she also hosts a weekly program for Resonance FM, a radio station sponsored by The Wire magazine. With her visual art, Gal conjures the hidden world of childhood, of girlhood in particular, a space untainted by mass media's lurking presence, despite enduring bouts of Go Seek. The title of this show, We Can Remember It for You, alludes to a similarly named story by Philip K. Dick that explores the implementation of contrived memories. We Can Remember It for You Wholesale, first published in 1966, has since inspired two Hollywood films, Total Recall in 199O and Eternal Sunshine of the Spotless Mind in 2004. Unlike this long beloved story, Gal's recent works ponder False Memory Syndrome, a media-born epidemic spread throughout the Western World in the 1980s, the very time during which the artist herself was coming of age. The drawings in this titular series were done on tissue paper--a material more often used to wipe away tears and mop up runny noses--then mounted beneath plexiglass. This delicate background barely manages to contain its equally fragile subject matter. Captured here in full color almost bleeding through the page, universally recognized film stars are portrayed as lonely, neglected children. These iconic figures, female but for one (and that one is said to resemble his mother in looks and personality), are represented by Gal at several different stages: infant, toddler, school age. Not quite robbed of their identities--which are not quite formed--Marilyn, Liza, Katharine, Brigitte and Cary struggle to fill the empty white space behind them. What are they, what were they ever, without a screen? Handwritten text scrawled beneath their tiny faces and bodies hints at the personal motivations that might have led to their common future. In young adulthood all of them were doted upon, not necessarily by family but by a large sector of the world's population. Sweet Fillings is a hanging sculpture made of twenty individual strands of sweets, each bearing the message "Loves Me" or "Loves Me Not." Regardless of their message, the glistening candies read as bait for Gal's paper dolls, who peer out hungrily from behind their protective plexi. The jewel tones of the candy wrappers hint at lures to come for the future stars. Diamonds, sapphires, emeralds and rubies await them, compensation for the privacy they'll be forced to sacrifice.In Alma's New Haircut the theme of childhood loss is revisited. This film features a 10-year-old girl snipping the shiny golden hair off a Barbie doll called Alma (Latin for Other) as she takes part in a Q&A with her aptly named off screen interviewer, Gal. The anonymous subject mixes fact with fiction, recounting a quaint little tale of her Other's recent illness and recovery. The story reveals just how well aware this chatty barber is that her childhood, a source of certain riches, will soon to go the way of Alma's locks.
Please join us at Abaton Garage on October 8th from 3-7PM to celebrate the opening of We Can Remember It for You. Refreshments are going to be served throughout the afternoon and evening. Sharon Gal will perform a musical set with voice, laptop and electronics at 5:30. For more information regarding the exhibit, or to make an appointment for a private viewing, contact Mark Dagley or Lauri Bortz 201-369-1591, Contact Abaton Garage
---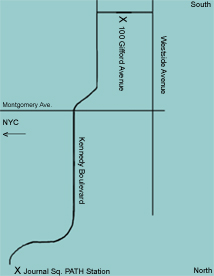 Directions:
From NYC take the Newark-bound PATH train to Journal Square. Taxis are available on Kennedy Boulevard, directly in front of the station. The ride to Abaton Garage takes less than five minutes and costs approximately $6. If you prefer to walk, simply stroll down Kennedy Boulevard about 3/4 of a mile, until you reach Gifford Avenue. Then turn right; 100 is in the middle of the block.
---
Previous exhibitions 2004:

Tom Warren, August ~ September 2004

Alix Lambert, September ~ October 2004

Bill Schwarz, October ~ December 2004


Previous exhibitions 2005:

Paula Gillen, June ~ July 2005

Michael Gentile, July ~ August 2005

Christine Krol & P. G. Six, August ~ September 2005

James Biederman, October ~ November 2005

Roger Miller ~ November 20 ~ December 2005


Previous exhibitions 2006:

Judith Fleishman, June ~ July 2006

HD Martinez, July ~ August 2006

Don Voisine, August ~ September 2006
---
Exhibiting:
---
---