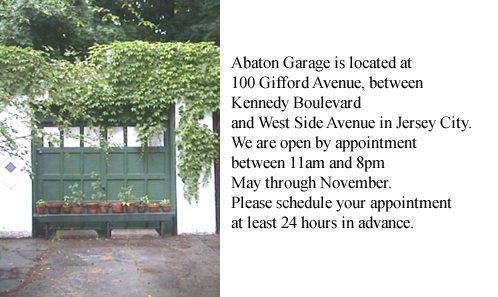 ---




R-Value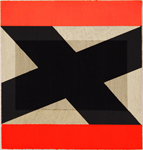 Recent paintings by Don Voisine
September 10th - October 5th, 2006
R-Value is a term referring to properties of materials and is applicable in describing soils and aggregates, insulation, and computer science. The R stands for resistance; the value is the capacity of a material to impede heat flow. Increasing values indicate a greater capacity. Don Voisine is an artist with a great capacity for abstract geometric painting. He has been practicing this skill for over thirty years, beginning in Maine. Since 1976 he's lived and worked in New York City, where he exhibits his paintings frequently. He's also shown extensively in museums and galleries across the United States. Voisine has been a member of the American Abstract Artists since 1997 and in 2004 became president of the esteemed organization. That same year he received an Edward Albee Fellowship. Voisine was recently granted a painting fellowship by the New York Foundation for the Arts. The works in R-Value, which Voisine created specifically for Abaton Garage, are named not only for the insulating abilities of their styrofoam bases but for various race car drivers whose velocity inspired the artist. While speed is not necessarily a quality valued by abstract artists, most would agree that some degree of quickness is important, especially where the intellect is concerned. One would guess Voisine has surpassed many a driver here.
Please join us for the opening reception of R-Value at Abaton Garage on September 10th from 3-7PM. Ben Miller (formerly of Destroy All Monsters) will perform a solo saxophone set at 6:00. Refreshments will be served throughout the afternoon/evening.
---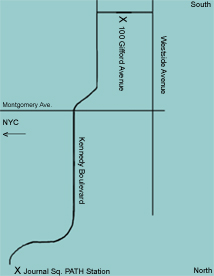 Directions:
From NYC take the Newark-bound PATH train to Journal Square. Taxis are available on Kennedy Boulevard, directly in front of the station. The ride to Abaton Garage takes less than five minutes and costs approximately $6. If you prefer to walk, simply stroll down Kennedy Boulevard about 3/4 of a mile, until you reach Gifford Avenue. Then turn right; 100 is in the middle of the block.
---
Previous exhibitions 2004:

Tom Warren, August ~ September 2004

Alix Lambert, September ~ October 2004

Bill Schwarz, October ~ December 2004


Previous exhibitions 2005:

Paula Gillen, June ~ July 2005

Michael Gentile, July ~ August 2005

Christine Krol & P. G. Six, August ~ September 2005

James Biederman, October ~ November 2005

Roger Miller ~ November 20 ~ December 2005


Previous exhibitions 2006:

Judith Fleishman, June ~ July 2006

HD Martinez, July ~ August 2006

Don Voisine, August ~ September 2006
---
Exhibiting:
---
---