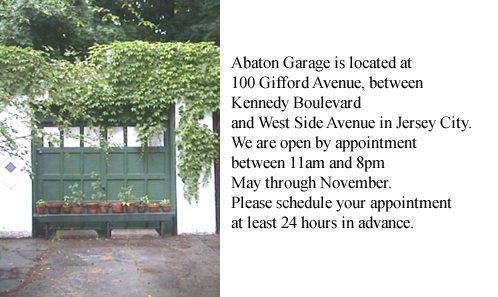 ---




The Nymph with But One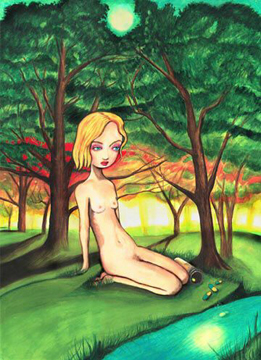 Recent prints and a video by Michael Gentile
November 5th - November 30th, 2006
Here's to the charmer whose dimples we prize Now to the maid who has none, sir
Here's to the girl with a pair of blue eyes
And here's to the nymph with but one, sir
The School for Scandal,
Richard Brinsley Sheridan
While Gentile Girls, the paintings from Michael Gentile's 2005 exhibit at Abaton Garage, might well serve as illustrations for a new publication of this 18th-century play, the artist's recent nymphs, sylphs and naiads more accurately echo the sentiment above. Gentile appears to have abandoned his Alma Mater, at least temporarily, for the greener pastures of magical realism. Still faithful to his girls, modeled by friends and lovers, both past and present, Gentile has transported these muses to paradisiacal lands. But in their densely forested havens, lush with myriad flora, surrounded by majestic mountains, the subjects seem ill at ease, alienated in their prospective Edens.
In Blue Morning, (above) a naked blonde nubile seated on the grassy green bank of a sparkling stream has spilled a bottle of oversized capsules, emptying them either into the water or her own slender self. Meanwhile at Luna Beach, a wild-eyed young redhead in brashly colored contemporary fashion has her ear to the wet, sandy shore. She's listening intently to an iPod, her closest link to civilization. A welcoming house is visible in the distance, on the opposite shore, but she ignores this cozy cottage in favor of the latest technology.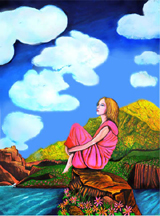 The boyish lass featured in Springtime gazes into the sky from atop a flower-covered tree stump. Golden mountains matching her hair glow in the background. She teeters on the brink of her stump, which sits either in or on the water, wearing hot pink Grecian garb that screams for attention. While there is no other animal life in the picture, she might be watching a flock of vultures circle above. On her face there is more than a hint of doom.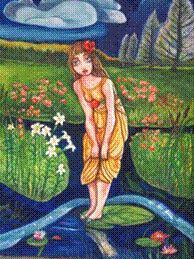 The less flashy yellow-robed brunette in Pondering lifts her hem to keep it dry. She has somehow balanced herself on a lilypad at the fork of a clear blue stream. She leans precariously toward a bunch of narcissi, bending over to take in the aroma of a flower not well admired for its perfume. In her long flowing hair, there is a far sweeter-smelling flower, a large red rose in full bloom.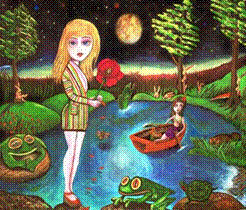 A Forest, the most elaborate of Gentile's images, features yet another blonde, this one with large pink bruises around her blue eyes. She's standing gingerly in red platform shoes on a rock at the edge of a country pond, dropping petals from the red rose she holds into the water, counting, perhaps: loves me, loves me not. A wide array of fauna surrounds her: frogs, rabbits, a turtle, a beaver, a sunfish, a bee, a google-eyed girl in a rowboat paddling her way. It appears the two youngsters are unaware of each other's existence. Both stare straight ahead rather blankly.
Please join us at Abaton Garage on November 5th from 3-7PM to celebrate the opening of The Nymph with But One. Refreshments are going to be served throughout the afternoon and evening. Corbi Wright will perform a musical set at 5:30, and house band Emerald Tablets will perform at 6pm. For more information regarding the exhibit, or to make an appointment for a private viewing, contact Mark Dagley or Lauri Bortz 201-369-1591, Contact Abaton Garage
---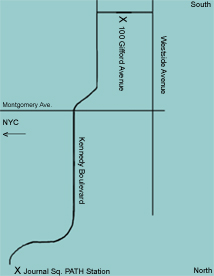 Directions:
From NYC take the Newark-bound PATH train to Journal Square. Taxis are available on Kennedy Boulevard, directly in front of the station. The ride to Abaton Garage takes less than five minutes and costs approximately $7. If you prefer to walk, simply stroll down Kennedy Boulevard about 3/4 of a mile, until you reach Gifford Avenue. Then turn right; 100 is in the middle of the block.
---
Previous exhibitions 2004:

Tom Warren, August ~ September 2004

Alix Lambert, September ~ October 2004

Bill Schwarz, October ~ December 2004


Previous exhibitions 2005:

Paula Gillen, June ~ July 2005

Michael Gentile, July ~ August 2005

Christine Krol & P. G. Six, August ~ September 2005

James Biederman, October ~ November 2005

Roger Miller ~ November 20 ~ December 2005


Previous exhibitions 2006:

Judith Fleishman, June ~ July 2006

HD Martinez, July ~ August 2006

Don Voisine, August ~ September 2006

Sharon Gal, October 8th ~ November 1st 2006
---
Exhibiting:
---
---