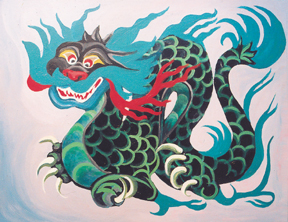 Marianne Nowottny
has been performing and recording her own unusual brand of soundcraft for nearly a decade, garnering international acclaim along the way. Nowottny re-introduces herself at Abaton Annex as an accomplished painter of fantastic imagery. Her cartoonish creatures of flight are born of an unwavering enthusiasm for advertisement and illustration. Skyife is captured here in supersaturated color by a multimedia artist who, true to name, is at home with media in all its forms. This exhibition will be on display at
Sweet Priscilla's Café,
which is acting as an annex to Abaton Garage during 2007.
You're cordially invited to attend an opening reception for Bondage of Self and Of the Air at Abaton Garage on August 12th from 3-7pm. Musical performances by Ziggurat, a duo featuring Scott Freyer and Megan Freeman, and Marianne Nowottny will begin at 6:00.
For more information regarding these events, please contact abatonbookcompany@comcast.net.
---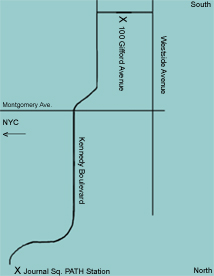 Directions
From NYC take the Newark-bound PATH train to Journal Square. Taxis are available on Kennedy Boulevard, directly in front of the station. The ride to Abaton Garage takes less than five minutes and costs approximately $7. If you prefer to walk, simply stroll down Kennedy Boulevard about 3/4 of a mile, until you reach Gifford Avenue. Then turn right; 100 is in the middle of the block.
---
---
Previous exhibitions 2004

Tom Warren, August ~ September 2004

Alix Lambert, September ~ October 2004

Bill Schwarz, October ~ December 2004


Previous exhibitions 2005

Paula Gillen, June ~ July 2005

Michael Gentile, July ~ August 2005

Christine Krol & P. G. Six, August ~ September 2005

James Biederman, October ~ November 2005

Roger Miller, November 20 ~ December 2005


Previous exhibitions 2006

Judith Fleishman, June ~ July 2006

HD Martinez, July ~ August 2006

Don Voisine, August ~ September 2006

Sharon Gal, October 8th ~ November 1st 2006

Michael Gentile, November 5th ~ November 30th, 2006

Sibyll Kalff, December 3rd, 2006 ~ January 7th, 2007


Previous exhibitions 2007

Stephanie Campos, May 6th ~ June 1st 2007

Mark Dagley, June 10th ~ July 7th 2007

Paula Gillen, July 8th ~ August 9th, 2007

Scott Freyer, August 12, ~ September 7th, 2007
---
Please visit the following Abaton Garage artists at their own websites


| Cora Cohen | Mark Dagley | Judith Fleishman | Michael Gentile | Paula Gillen |
---
---
Copyright © 1997-2007 Abaton Book Company. All rights reserved.