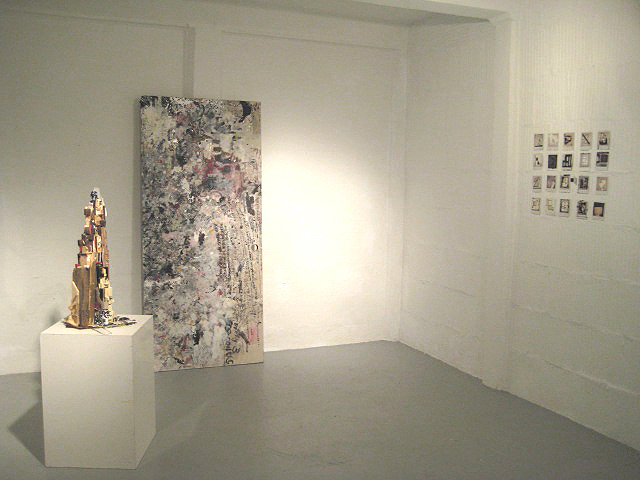 Download the brochure to this exhibition
Abaton Garage is pleased to open its fourth season with recent work by New York artist Stephanie Campos. 1:1/1
Lightning Rock
includes paintings, objects and works on paper that engage a variety of signs, symbols and conceptual strategies, from the geometric architecture of Russian Suprematism to the recycling of studio detritus found in Nouveau Réalisme. Campos, best known for her abstract paintings, is intentionally disruptive here, removing objects from their context and reworking them into a new reality that is constantly shifting, a symbolic gestalt of absence "between somewhere and nowhere," as the artist would say.
Please join us for the opening reception of Lightning Rock at Abaton Garage May 6th from 3-7PM. Jersey City's own psychedelic-folk explorers Pothole Skinny will perform at 6:00. Refreshments will be served throughout the afternoon/evening. A accompanying brochure with installation shots and a text by Nora Griffin will be available during the course of the exhibition.
---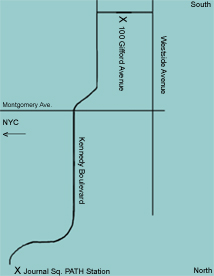 Directions
From NYC take the Newark-bound PATH train to Journal Square. Taxis are available on Kennedy Boulevard, directly in front of the station. The ride to Abaton Garage takes less than five minutes and costs approximately $7. If you prefer to walk, simply stroll down Kennedy Boulevard about 3/4 of a mile, until you reach Gifford Avenue. Then turn right; 100 is in the middle of the block.
---
Previous exhibitions 2004

Tom Warren, August ~ September 2004

Alix Lambert, September ~ October 2004

Bill Schwarz, October ~ December 2004


Previous exhibitions 2005

Paula Gillen, June ~ July 2005

Michael Gentile, July ~ August 2005

Christine Krol & P. G. Six, August ~ September 2005

James Biederman, October ~ November 2005

Roger Miller, November 20 ~ December 2005


Previous exhibitions 2006

Judith Fleishman, June ~ July 2006

HD Martinez, July ~ August 2006

Don Voisine, August ~ September 2006

Sharon Gal, October 8th ~ November 1st 2006

Michael Gentile, November 5th ~ November 30th, 2006

Sibyll Kalff, December 3rd, 2006 ~ January 7th, 2007


Previous exhibitions 2007

Stephanie Campos, May 6th ~ June 1st 2007
---
Please visit the following Abaton Garage artists at their own websites


| Cora Cohen | Mark Dagley | Judith Fleishman | Michael Gentile | Paula Gillen |
---
---